Are you looking for quality garage services for your vehicle? Whether it's regular maintenance and repairs, or you've broken down and need roadside assistance, it's important to find a trustworthy business. Here are some things to look for in a reliable company:
Convenient Availability
Car problems can happen any day and at any time. When issues can't wait, you'll need to find a business that can help, especially if you've broken down and need recovery. At Millbrook Recovery, our control room is available 24 hours a day, 7 days a week. If you require roadside assistance or need emergency key cutting, we can help with a range of garage services.
Auto Experience
When looking for quality garage services, it's important to look out for businesses that have ample experience. The quality of assistance you receive can be impacted by the amount of how well-versed a company is. With experience, comes greater knowledge, efficiency, and solutions to problems. Millbrook Recovery has over 30 years in the industry, so you can be confident in our services.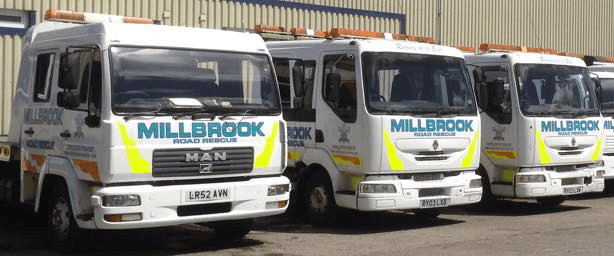 Great Reviews For Garage Services
One of the greatest indications of a good business is the reviews it receives. Online testimonials are a great way of gauging how helpful a company is. If the majority are positive, you can probably expect a similar experience for yourself. The same can be said for negative reviews. Getting roadside assistance for your vehicle can be very stressful, so it's important to opt for a company that will help with the situation quickly and efficiently.
At Millbrook Recovery, we have lots of great reviews on our garage services. Check out for yourself what other people think.
Accreditations & Certifications
Finding businesses that have certifications from the relevant bodies is a good indication of a reliable company. It shows that they have been through a certain auditing process to obtain these certifications. At Millbrook Recovery, we are NQA certified in vehicle recovery and quality management. This means you can be confident in our abilities, and you can be assured we will do our job to the highest standard.
---
Contact Us Today For Quality Garage Services
If your vehicle is in need of repairs, call us now. Our friendly team can help with a wide range of garage services to keep your vehicle in great shape. We are trusted by leading organisations like The AA and Green Flag to do work on their behalf. For reliable assistance, get in touch with Millbrook Recovery today.